Although the majority of the company's work comes from corporate clients, it frequently serves the needs of individuals requiring luxury travel for a special occasion.

Whether you require several cars for a wedding or transport for an anniversary celebration, A. Mercedes is on hand to help your day go without a hitch. Should your celebration involve transporting a number of guests, a 7-seater and 16-seater vehicle can also be made available upon request.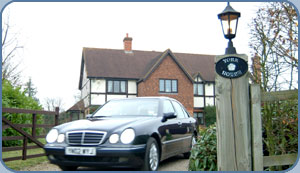 With a team of experienced chauffeurs who are used to working to rigid deadlines and planning the route ahead, there really is no better Company to help your occasion go smoothly.

A. Mercedes Private Hire believes that you are paying not only for a means of transport, but for a service. Drivers are smart, reliable and friendly and believe in going that extra mile to make sure its customers are relaxed and comfortable when they arrive at their destination.

Obviously, for an important occasion, you really want to feel confident that the service you receive lives up to your expectations. The comments below are taken from a letter received from a customer who used
A. Mercedes Private Hire for a wedding:

"Thank you so much for your services at the recent wedding of our son at High Wycombe. I cannot tell you how pleased we were with the cars and drivers – especially the friendliness and professionalism of the latter. We would not hesitate to recommend you and have done so…" - Mr & Mrs Millet
These comments are typical of the sort of response the Company receives from its customers.

Why not call A. Mercedes now to find out how they can make your special occasion even more memorable?